Girls Competitive Team

 2017 – 2018
It's a new year at Cobra, and we are so excited to welcome back girls from last year's team, as well as a few new teammates! We are looking forward to training hard, competing strong, and supporting each other as a team.
You can use iClassPro to update your personal contact information, access your tuition bill, and (as we learn more about it) more! Find the access link below to start exploring!
Team Parents (ONLY):

Find the iClass Pro Parent Portal HERE.
We are looking forward to having a great year!
Girls Competitive Team 2017 Team



ABOUT OUR TEAM

The Cobra Gymnastics Team began in 2012 and is coached by Shelby Jones, Gail McGann, Ali Natowich, and Reed Byg. Competing under the USA Gymnastics Xcel and Junior Olympic program, the team ages range from 6-13 years old, with levels from J.O. 2 – 6 and XCEL Bronze – Platinum. The 50-member team travels throughout Vermont and New England from November through May competing in sanctioned USA Gymnastics Meets. They compete all four Olympic Events including Vault, Bars, Balance Beam and Floor Exercise.
MEET RESULTS – As of February 1, 2017
All of the Cobra competitive gymnastics teams were fully represented and many girls leaped and flipped their way to the podium this month.  The teams worked together to bring the trophies home.  The first of two meets was The Royal Meet at Regal Gymnastics in Essex, VT on January 14th and 15th.  The second invitational, The Sunrise Snowflake, was at Sunrise Gymnastics in Barre, VT January 28th and 29th.  
The first place podium finishers were:
The Royal Meet
Xcel Bronze
Pernilla Borgia – 9.35 Bars, 9.175 Beam, 9.175 Floor and 36.60 All Around
Elianna Carman – 9.4 Vault
Eliza Dopkins – 35.775 All Around
Mia Harrington – 8.875 Beam
Makenna McKnight – 9.3 Vault
Natalie Wildman – 9.2 Bars, 9.25 Floor
Xcel Silver
Jayla Eugair – 9.5 Floor, 37.10 All Around
Xcel Gold
Tayah Fuller – 8.725 Vault, 34.725 All Around
Loretta Cooley – 9.3 Bars
Sarah Martin – 8.525 Beam
JO Level 3
Margaret Merrow – 9.3, Baars, 9.225 Beam, 9.1 Floor and 36.850 All Around
Neely Turner – 9.3 Vault
JO Level 4
Robin Tashjian – 9.5 Floor
JO Level 6
Maleah Jones – 9.7 Beam, 9.5 Floor
JO Level 7
Ella Tashjian – 9.525 Floor
For Team awards at the Royal Meet, The Xcel Bronze team took home top honors and a first place trophy.  The Junior Olympic Levels 4 and 6 and Xcel Gold took home second place.  While Xcel Silvers, JO Level 3 and 7 each took home 3rd place.
Sunrise Snowflake Meet
First Place podium finishers:
Xcel Silver
Jayla Eugair – 9.525 Bars, 37.225 All Around
Gracyn Skaza – 9.45 Floor
Xcel Gold
Sierra McDermott – 9.225 Bars
JO Level 3
Izabella Adams – 9.575 Floor
Margaret Merrow – 9.625 Floor
JO Level 4
Robin Tashjian – 9.450 Floor
JO Level 6
Lili Zens – 9.55 Vault, 9.75 Beam, 9.65 Floor and 37.225 All Around
MacKenzie Carlson – 9.2 Beam and 35.475 All Around
JO Level 7
Ella Tashjian – 9.55 Vault, 8.625 Bars, 8.825 Beam, 9.6 Floor and 36.60 All Around
The Junior Olympic Level 6 and 7 and Xcel Gold gymnasts secured first place at the Sunrise Invitational with Xcel Silver and Junior Olympic Levels 3 and 4 all taking home second place trophies.
Next up for the Cobra Competitive Gymnastic team is a busy February with meets at Green Mountain Gymnastics on February 11th and 12th and The Hip Hop Classic at Woodman Athletics, February 24-26th.  
Previous Meet Results
Girls Competitive Team 2014 – 2015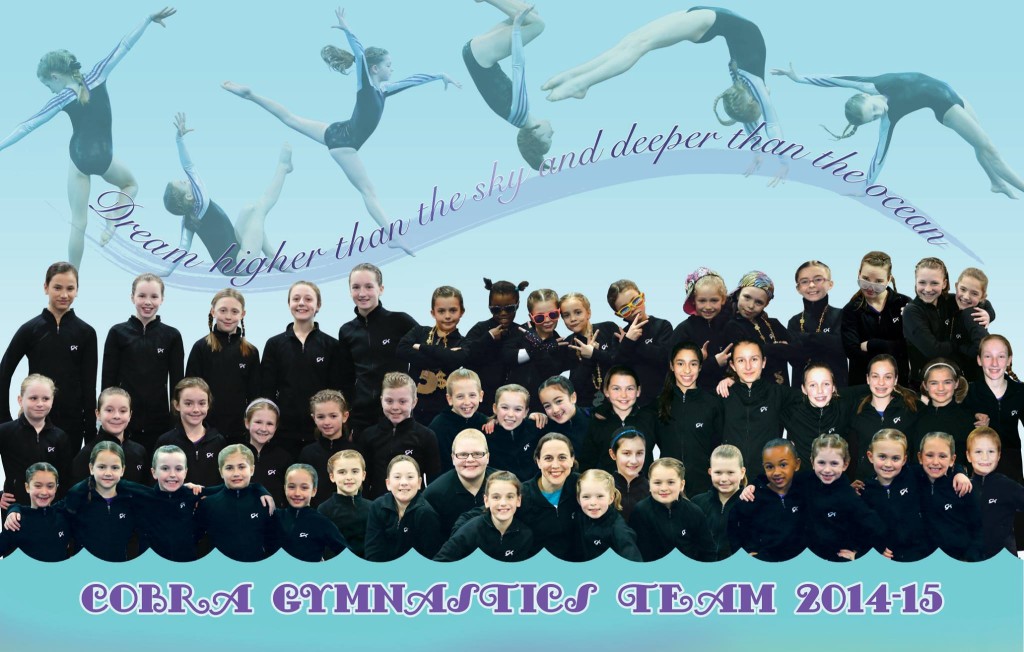 Our 2016-17 Team is forming now! Call 772-7011 or email cobravt@me.com for info!
For Meet info, please check our Calendar! We update regularly!