Girls Competitive Team

 2017 – 2018
For Meet Schedule click here, please check our Calendar as well! We do update it regularly!
Call 772-7011 or email cobravt@me.com for info!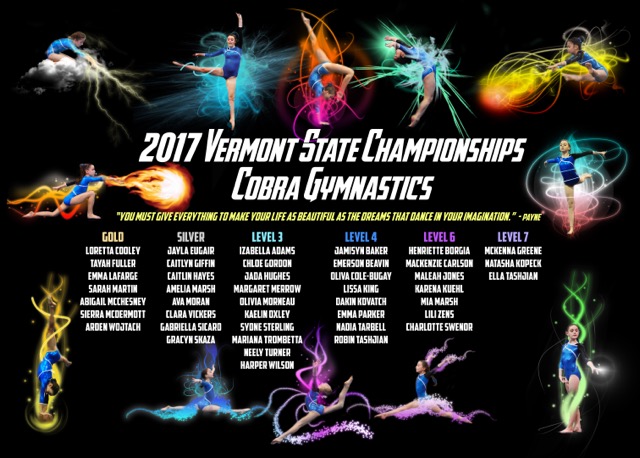 2017-18 marks our sixth year with a competitive team here at Cobra!  This year we are hosting an Xcel Team with Bronze, Silver and Gold levels as well as a Junior Olympic Team with Levels 3, 6, 7 and 8.  The 57-member team travels throughout Vermont and New England from November through May competing in sanctioned USA Gymnastics Meets. They compete all four Olympic Events including Vault, Bars, Balance Beam and Floor Exercise.

Head Coaches for the season include Shelby Collett and Kathy St.Pierre with our amazing assistant coaches including Gail McGann, Topsy King, Lori Bullett, Julia Waite, Bonnie Watson and Bob Abbott.
Our girls team resonates qualities of compassion, dedication and diligence and as a result we have found success in both our team and individual accomplishments.
Our sixth year team veteran, MacKenzie Carlson, Level 7, has not only be inducted into the Sociedad honoraria Hispanic, but is also Miss Teen Vermont 2017-18.
Mackenzie was a part of the Vermont Regional Xcel Gold team two years in a row during the 2013-14 season and the 2014-15 season.
A sixth year veteran, Maleah Jones, has been elected as Secretary of the Rutland Intermediate School Student Council.  Maleah has been a Vermont State Champion for the past four years in Levels 6, 4, 3 and Silver.
Abby McChesney, a fifth year veteran of the team was awarded the Meredith Brooks McDermott scholarship in the Visual/Performing Arts at Long Trail School this year. Abby was also a part of the Vermont Regional Xcel Gold team during the 2016-17 competitive season.
Congratulations to Ella Tashjian for being our first Level 7 athlete to qualify for the 2016-17 Vermont Regional Team.  Ella took home a Bronze medal on Floor with a score of 9.675.
Our State Champions for the 2016-17 season include:
Ella Tashjian, Level 7 All Around Champion (36.275)
Maleah Jones, Level 6 Beam (9.325) and Floor Champion (9.7)
Lisa King, Level 4 Bar Champion (8.9)
Robin Tashjian, Level 4 Floor Champion (9.5)
Abigail McChesney, Xcel Gold Beam, Floor and All-Around Champion
Tayah Fuller, Xcel Gold Bar Champion (8.8)
Sarah Martin, Xcel Gold Vault Champion (9.125)
Clara Vickers, Xcel Silver Vault Champion (9.4)
Jayla Eugair, Xcel Silver Bar Champion (9.6)