2017-2018
Session One: 17 Weeks
September 11, 2017 - January 27, 2018
Closed Halloween, Oct 31
Closed Thanksgiving Break 11/20 - 11/25
Closed Christmas/New Years Break 12/21 - 1/3/18
Session Two: 17 Weeks
January 29, 2018 - June 9, 2018
Closed February Break 2/19 - 2/24
Closed April Break 4/16 - 4/21
Closed Memorial Day May 29th
2017-2018 Schedule Here
2017-2018 Pricing Here
2017-2018 Policies Here
Levels 1 & 2 Boys & Girls Recreational Classes
These classes will follow a fun, progressive curriculum guiding the students to an introduction of the four Olympic events and trampoline. An increase in body strength, coordination, balance and agility will be achieved. Advanced Level 1 Recreation is a 75 minute class designed for the beginner gymnast who shows athletic promise and dedicated attention span.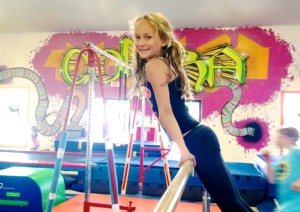 LEVEL 2 ADVANCED GYMNASTICS CLASSES
Ages 6+
These classes are 1.5 hours and are designed for returning gymnasts or those with prior experience. The program continues to teach progressive skills while preparing the gymnasts for more advanced or team levels.
GIRLS COMPETITIVE TEAM
Participation on team is through invitation only. Cobra has seven levels of team, ranging from beginner to advanced.

Back handsprings and Beyond

Ages 7-14
This class focuses on the strength, flexibility and drills required to obtain the coveted back handspring! The focus will be on floor, tumble tramp and trampoline with tumbling and standing acro skills as a focus.
Ninja Freestyle Training

Ages 5+
These classes provide a fresh approach to gymnastics training at Cobra. Using our trampolines, bars, hills, mats, rope, beams and a variety of props, we will create challenges and obstacle courses that will allow your child to develop strength, body awareness and agility.